Annual Membership Meeting
Introduction of our New Board
Excitement cursing through the lines and out of screens. A group consisting almost of all official members of MediaMundo staring into their cameras. The tension is almost palpable. And then… the microphones turn on. Cheers everywhere! Because they all know the one truth, the one thing no one can stop anymore. It is too late. It has already begun. The annual membership meeting.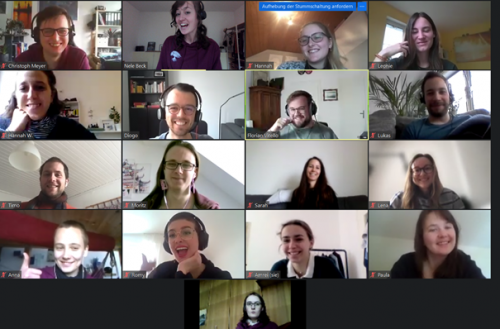 On the 8th of May the most active members of MediaMundo came together for the annual membership meeting to decide life changing things like the election of a new board and an awareness team. It was the most epic event this year so far!
First of all, we want to thank the first board of MediaMundo, what they have achieved within just one year is incredible! Everything we are currently working with has been built up out of nothing with the coordination of those five people and the work of all the volunteers of this first year. They had a vision and created something amazing. The new board just hopes to carry on that legacy and use those foundations to go even further. 
This board consists of: 
Nele is our chairwoman as well as head of education and workshops. She is primarily committed to digital empowerment and wants to make international development cooperation at eye level possible.
Anna is responsible for the Project Management team and wants to set up long-term collaborations as well as networks with new projects in the future. 
Johanna coordinates the AG for external and internal communication. She is responsible for this Newsletter for instance.
Florian is our chairman and the founder of MediaMundo. In the coming year, he will continue to take on representative, social, as well as strategic tasks for us.
Diogo is our expert for finance and law. He creates the legal and administrative basis for everything that happens at Media Mundo.
"We hope to support MediaMundo as best we can."
Awareness team
To solve internal conflicts, help people who feel ignored, offended or overwhelmed, and to just accompany our members with their work, we founded an awareness team. Our new awareness team consists of Romy and Julia. They will pop in some calls every now and again to see if everything is alright and are always there to contact if anyone needs their support. We hope that this helps to improve our internal communication even more and to give everyone the feeling that they can talk about anything. 
Introduction of our New Board